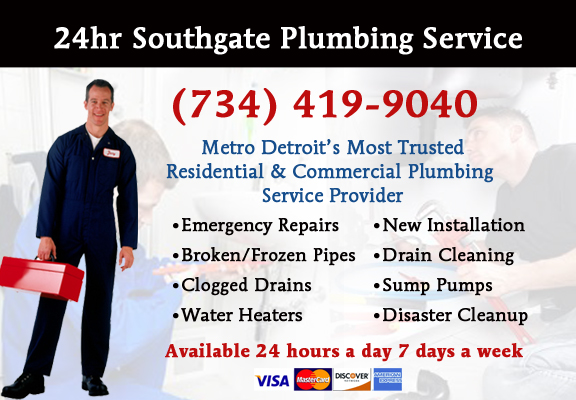 Emergency Plumbing Services to Southgate Michigan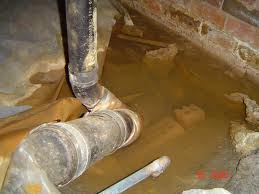 Facing a plumbing problem? With Emergency Plumbing Michigan help is but a phone call away. We offer 24 hour a day, 365 days a year emergency service. If it is an emergency, we'll dispatch a plumbing technician to your home immediately! We can arrive at your home or business with in an hour or less. We will call you before moments before we arrive at your home or business. We service all of the Downriver area of Michigan, including Wyandotte, Grosse Isle, Taylor, Trenton, and Allen Park areas.
Plumbing problems tend to arise when we least expect them, and when least convenient, such as holidays and busy days. If you have or suspect you have a plumbing problem, such as backed-up toilet or drain, it is best to call for help before the problem gets worse. With Emergency Plumbing Michigan you are in good hands, all of our plumbing work is performed by master plumbers, who have years if not decades of experience behind them. We can handle all of your plumbing needs from small jobs like leaky pipes or clogged drains, to big jobs such as sewer line repair or replacement. We provide service for both residential and commercial customers. We also use state of the art equipment when needed to address your plumbing needs, such as moisture meters for leak detection.
Commercial and Residential Professional Plumbing Repair Southgate, Mi
You can always relay on us to provide you with prompt and courteous service. All of our employees will treat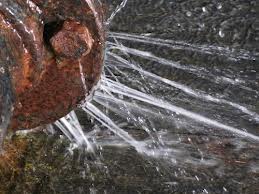 both you and your property with the utmost respect, Our plumbers use shoe covers before entering your building, and we use drop cloths as needed. All of our plumbers have passed extensive background checks, for your peace of mind. Emergency Plumbing Michigan is a multi craft and service plumbing provider, with a wide range of plumbing services to take care of any plumbing or water based problem you may have.
We offer the following plumbing services:
General Plumbing:
Leaky pipe repair, water line repair, bath and kitchen faucets repaired and replaced, water heater repair or replacement, electronic leak detection using moisture meters, slab leak repair, sump pump repair, repiping, backflow preventer installation, pipe renewals or rejuvenations, pump installation and repair, outdoor plumbing, septic tank repair and maintenance, toilet repairs, under foundation repairs, valve repairs, boiler service, and even water treatment systems.
Plumbing and Drain and Sewer:
Clogged drains of any kind, drain cleaning and snaking, Sewer line cleaning and maintenance, sewer ejectors, video sewer inspections, trenchless sewer replacement or excavation, floor and storm drain servicing, sewer and drain video camera inspection, and the removal of roots or blockage from sewers.
We have quickly become the Downriver area of Michigan's number one emergency plumbing choice. We have a reputation for providing excellent service at a reasonable price. With our proven track record, we are the local plumbers you can trust to provide you with professional plumbing solutions at a price you can live with. Emergency Plumbing Michigan has been in business for over 3 decades, so we understand our customers needs. We take pride in professionalism and our quality of work. We put the service back in customer service and satisfaction. We are also fully licensed, bonded and insured, as well as knowledgeable in all local building codes and ordinances for your peace of mind.
we stand behind our work and everything we do. We guarantee our customers complete satisfaction. If you have a plumbing emergency in Wyandotte, Grosse Ile, Taylor, Trenton, and Allen Park areas, or any downriver area, at any day or night, give Emergency Plumbing Michigan a call for all of your plumbing needs or an estimate. 734-419-9040